Husqvarna R216 AWD unit only
Optional Cutting Decks for Rider 216awd 967152201 94cm   967152301  103cm
Combi cutting deck
The Combi cutting deck offers the versatility of two different cutting systems. Choose between BioClip® for lawn fertilisation and rear ejection for efficient mowing on areas with higher and rougher grass.
All-Wheel-Drive (AWD)
All-Wheel-Drive (AWD) ensures traction on uneven, wet and slippery areas and slopes. AWD automatically adjusts the traction on all wheels depending on situation and ground condition.
Easy-access cutting height lever
The cutting height lever is easy to reach from the driver's seat, making it possible to do cutting height changes while mowing.
Hour meter
Helps you having control over service and maintenance intervals.
Unique articulated steering
The unique articulated steering system allows the rear pair of wheels to swing in underneath the machine. The result is superior manoeuvrability with a minimum turning radius at full lock.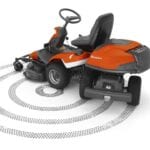 Adjustable steering wheel
For greater ergonomics and comfort a telescopic steering column lets the steering wheel height to be adjusted.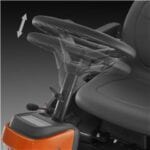 LED head lights
LED lights for improved visibility and enlarged lighted area in darker conditions.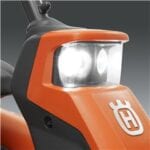 Turn key start
Easy to get operating under any wetather conditions. No choking needed, just turn the key and go.