Automower Husqvarna 430x Robotic Lawnmower
Husqvarna 430x Automower is a ultra-quiet robotic mower which handles complex garden shapes, narrow passages and steep slopes up to 45%.  The Husqvarna430x robotic mower is also capable of mowing lawns of up to 3200m2making it an ideal mower for larger gardens.  Achieve a perfect looking lawn, with minimal effort all-year round
Installation service available for Kent, Sussex, Surrey and London areas Contact our sales team
 FEATURES
5 Year warranty now available  with this Auto-mower  when installed by us.
Automower® Connect
Automower® Connect gives you full control of you Husqvarna mower right in your smartphone. You can easily send start, stop and park commands, check and adjust settings.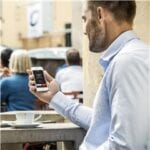 GPS-assisted navigation
 GPS – assisted navigation system which creates a map of the garden, including where the boundary and guide wires are installed.
 Husqvarna Automower will then register which parts of the garden it has covered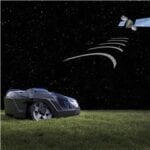 LED headlights
Energy-efficient LED headlights for better visibility and control even in the dark. The lights will also start flashing if a malfunction occurs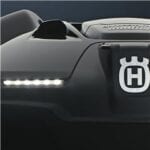 Ultra-silent drive
Wheel motors with 2 step gearboxes, a new technology that enables ultra-silent drive. Gives an outstanding performance in perceived noise level and enables night time operation or 24/7 mowing in all kind of neighborhoods.
Graphic menu display, large-sized
The 430x high resolution, large-sized display with clear and intuitive graphic menu structure. Easy and pleasant to use. Self explaining set-up for convenient programming of the individual settings.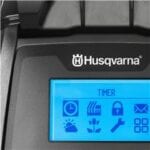 Husqvarna 430x unique cutting system
Husqvarna 430x Automower® cuts just a little but frequently, which assures a nice and healthy lawn. It is equipped with sharp razor-like blades made of strong carbon steel mounted on a robust cutting disc system. This provides for efficient operation and extremely low energy consumption.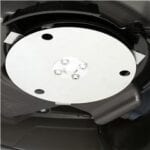 Brand Husqvarna
Specifications
Battery
Battery type Li-ion
Typical charging time   50 min
Typical mowing time on one charge   145 min
Mean energy consumption at maximum use   18kWh
Mean energy consumption at maximum use   3200 m²
Power consumption during cutting    30 w
Capacity
Working area:  3200 m² ±20
Charging system:  Automatic
Maximum incline within working area  24 %
Colour  Granite Grey
Weight 13 kg
Product Height 30.8 cm
Product  Length 72.1 cm
Product Width 55.8 cm
SKU 967852803 Auto-mower 430x