Chainsaw MS181 C-BE 16″Petrol Chainsaw Perfect for small tree felling and logging.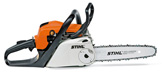 Advanced combustion technology
Four overflow channels swirl the fuel-air mix before ignition, allowing for optimum combustion and highly efficient performance. The result is lower fuel consumption and high torque across a broad rpm range.

STIHL 2-MIX-Engine
1-in-4 channel technology. The economical STIHL 2-MIX engine with 1-in-4channel technology features a high torque over a wide speed range. The chainsaw provides fuel savings of up to 20% compared to STIHL two-stroke engines in the same performance class without 2-MIX technology. Exhaust emissions are reduced by up to 50%.
Anti-vibration system
Intense vibration at the handles of power tools can lead to long-term effects on blood vessels in the hands and arms. STIHL has therefore developed an effective anti-vibration system whereby the oscillations from the machine's engine are dampened which significantly reduces vibrations at the handles.

Pre-separation air filtration system
STIHL long-life air filtration systems with pre-separation achieve perceptibly longer filter life compared with conventional filter systems. Air drawn in is swirled. The larger, heavier particles are ejected. The pre-cleaned air is routed to the air filter via the pre-separator duct.

Compensator
This controller in the carburettor prevents the fuel-air mixture getting richer as the air filter becomes clogged. The correct quantity of fuel is delivered to the carburettor depending on the quantity of air passing through the air filter. This keeps the fuel/air ratio in the combustion mixture constant and hence also the engine power. The filter doesn't need to be cleaned until an appreciable drop in power occurs.

Single-lever master control
All important functions such as start, choke, throttle and stop are operated via a single lever

Stihl Ematic chain lubrication system
The Ematic chain lubrication system ensures pinpoint lubrication of the saw chain links and guide bar rails. When used with STIHL OILOMATIC saw chain, it will provide maximum lubrication, longer wear and less oil consumption than conventional methods of chain lubrication. The Ematic system can reduce bar oil consumption by up to 50%.

STIHL ErgoStart (FT)
A genuine advance in easy starting. STIHL ErgoStart (E) cuts the effort required to start the tool by half, while the starter cord can be pulled at just one third of the normal force. All it takes is 2 fingers and a gentle pull action.

Chain Quick Tensioning
After releasing the sprocket cover the chain can be adjusted using a thumb wheel without the need for tools.

Tool free filler caps
Special catches on the fuel and oil tanks for easy opening and locking without the need for tools

Stihl MS181 C-BE Technical data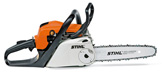 | Technical data | Value |
| --- | --- |
| Displacement cm³ | 31.8 |
| Power output kW/bhp | 1.5/2 |
| Weight kg 1) | 4.6 |
| System weight kg 2) | 5.28 / 5.38 |
| Power-to-weight ratio kg/kW | 3.1 |
| Sound pressure level dB(A) 3) | 100 |
| Sound power level dB(A) 3) | 112 |
| Vibration values left/right m/s² 4) | 3.5/3 |
| STIHL Oilomatic saw chain pitch/type | 3/8″ P PM3 |
| Oil pump | Not adjustable |
| Tank volume l | 0.27 |
| Chain pitch | 3/8″ P |
| Chain tensioning | Chain Quick Tensioning |
| Sprocket – number of teeth | 6 |
| Filter | Long-term filter system / standard filter |
| Bumper spike | Steel claw |
| Cylinder | 4 channel / chrome |
| Oil tank volume cm3 | 265 |
| Sprocket | Sprocket profile |
| Anti vibration system | AV System, steel spring |
| Filler cap | Tools |
| EPA Certified fuel consumption l/h | 0.75 |
| CO2 g/kWh | 1.039 |
| Handle type | Standard handle |
| Speed at maximum power Um | 10.000 |
| EPA Certified fuel consumption glh | 0.198 |
Cutting Attachments

Rollomatic E
The body is made of 3 electrically-welded metal plates, the middle plate is extensively hollowed out. Low weight, high stability.
| Technical data | Value |
| --- | --- |
| Bar length | 30cm/12″,35cm/14″,40cm/16″ |
| Sprocket pitch | 9.32mm/3/8″ P |
| Number of teeth on the sprocket | 9 |
| Pitch | 3/8 P Inch |
| Groove width | 1.3 mm |
| Groove width | 1.3mm/.050″ |
| Number of teeth | 9 |
| Bar type | Stern-Rollomatic |
| Bar connection | 3.005 |