Stihl HSA 56 18″AK System cordless hedge trimmer only requires battery and charger.
AK system
Compact lithium-ion battery for the AK System with a voltage of 36 V and a capacity of 72 Wh. Battery life depends on the device type. With charge level indicator (LED). Compatible with AL 101, AL 100, AL 300 and AL 500 chargers.
The STIHL cordless tools are so quiet you don't even need to wear ear protection

Neutral battery position
The battery can be inserted into the tool in 2 stages. In the first neutral position, the battery is secured in the tool but does not connect with the contacts, allowing for safe transport. In the second operating position, the battery is completely inserted allowing for full operation of the tool.

Blade tip protector
The tip protector comes fitted as standard and makes cutting near the ground or along walls easier, whilst helping to protect the cutters from damage.
Technical data
| | |
| --- | --- |
| Stroke rate rpm | 2.800 |
| Cordless technology | AK System |
| Rated voltage V | 36 |
| Working time with AK 10 min 1) | up to 50 |
| Run time with AK 20 battery min 2) | up to 100 |
| Weight kg 3) | 2.9 |
| Total length cm | 94 |
| Sound power level dB(A) 4) | 91 |
| Sound pressure level dB(A) 5) | 80 |
| Vibration value, left m/s2 6) | 2.7 |
| Vibration value, right m/s2 6) | 1.2 |
| Blade length cm | 45 |
| Recommended battery | AK 10 |
Accessories
STIHL Smart Connector
STIHL Connected is a cloud based system that enables professional users to digitally manage machine fleets and work assignments.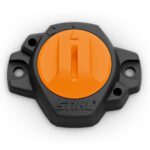 This is managed by the STIHL Smart Connector – a sensor with a diameter of just under 5cm, which is mounted on the tool. It can be mounted on petrol, electric or battery-powered tools where it records and saves the operating hours while the motor is running and transmits this information via Bluetooth® 4.2 to the STIHL connected App (the smart connector can be mounted on non-STIHL tools too). The Smart Connector offers entirely new functions and services, as a basis for device management both in your home garden using the STIHL connected App, and for managing your machine fleet using the STIHL connected Portal. The STIHL connected Portal gives you a detailed overview of the status of your fleet of tools, as well as information such as duration of use on a particular work assignment.