Stihl GTA 26 Cordless Garden pruner
The Cordless Stihl GTA 26 is our first battery-powered garden pruner, and is the ideal tool for small pruning tasks, cutting up garden waste and even small DIY jobs.
Designed to be comfortable and simple to use, the Stihl GTA 26 has comfortable, rubberised handles so it is easy to control. It also features a moving protective hood, a charge level indicator and tool-free chain replacement.
The Stihl GTA 26 also comes with an AS 2 battery, an AL 1 charger, a bottle of Multioil Bio for lubricating the chain and a carry case, which also has eyelets on the back so it can be mounted on the wall, for neat storage.
Battery run time up to 25 min
STIHL 1/4″ PICCO MICRO 3 CHAIN
Manufactured in Switzerland, STIHL chains deliver impressive cutting performance, with galvanised teeth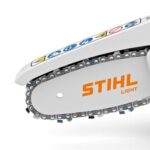 MOVING PROTECTIVE HOOD
The Cordless Stihl GTA 26 has a hinged protective hood above the bar, which moves as you cut.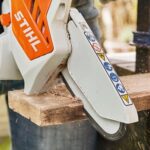 CHARGE LEVEL INDICATOR
The charge level indicator means you can see how much battery life you have left at all time.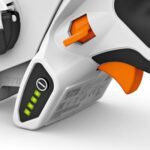 COMFORTABLE, RUBBERISED HANDLES
Rubberised handles for easy and accurate control.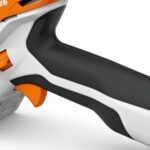 MULTIOIL BIO INCLUDED
The Stihl GTA 26 also comes with a 50ml bottle of Multioil Bio to lubricate the chain.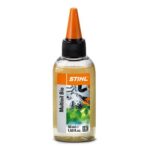 FABRIC CARRY CASE
The battery Stihl GTA 26 comes in a fabric carry case, along with the charger and battery.
Specifications
1 x AS 2 Lithium-lon,28wh,10.8v
1 x AL 1 Standard charger
1 x 10 cm Light guide bar
1 x chain 1/4 pm3
1 x Multi oil Bio,50 ml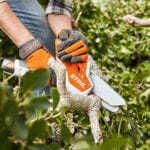 This AS2 Stihl battery system works exclusively with the products in the as range and is not compatible with the HSA 25
TECHNICAL SPECIFICATIONS
| | |
| --- | --- |
| BAR LENGTH CM | 10 |
| RATED VOLTAGE V | 11 |
| WEIGHT KG1) | 1.2 |
| WEIGHT POUNDS1) | 2.6 |
| VIBRATION LEVEL LEFT M/S²2) | 2.9 |
| VIBRATION LEVEL RIGHT M/S²2) | 2.8 |
| SOUND PRESSURE LEVEL DB(A)3) | 77 |
| CHAIN GAUGE | 1/4″ P |