The STIGA Stig robot lawn mower cares for your garden and gives you back your lawn-time.
With a 5Ah battery, it mows up to 1200sqm on one charge, or 600sqm with a 2.5Ah battery.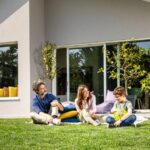 Gives you back your lawn time
With STIGA's patented E-Power battery technology at its heart, Stig can mow a 1.200sqm lawn in just two cycles a day.
This means, he can leave up to 5 hours between mows and concentrate his mowing in the best times of day to promote healthy lawn cultivation and give you back uninterrupted time to enjoy your lawn.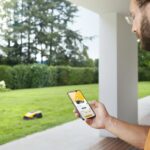 STIGA.GO App providing advanced control
For more detailed operation, the STIGA.GO app provides advanced control including a full scheduling function to plan your cutting sessions to suit your needs, weather patterns and seasonal changes.
Simple, intuitive on-board control panel
With just 5 buttons to select primary functions, the on-board control panel allows you to get started quickly and easily. A battery light informs you of the charge level and a warning light signals any hazards.
The highest safety levels – from front to back
Pivoting, retractable blades, two stabilising front wheels, and multiple sensors provide the utmost safety, switching off the blades in under 2 seconds if STIG is lifted or tips over. A rain sensor automatically sends the robot back to its charging dock when activated by rainfall.
Carefully considered positioning of the battery – between the two rear wheels – positively affects STIG's centre of gravity creating balance even on slopes of up to 45% (24°)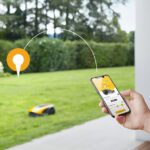 Go-to-Cut points
By setting the "Go-to-Cut" points, Stig will learn where to start the cutting sessions along the wire, so that every corner of your lawn is cut and hence, tidy every day. You can easily set the Go-to-Cut points from the app.
High-performance cutting, combined with intelligent navigation
Comes with E600  2.5ah Battery
Cutting width 18 cm
Cutting height range 20 – 60 mm
Blade type 4 Pivoting blades
Eco-mode According to Power kit
Rain sensors Yes
Maximum slope 45%
Bluetooth receiver Yes
Smart APP Yes
User Interface Keypad
Obstacle detection sensors Yes
Lift sensor Yes
Tilt sensor Yes
Measured sound power level dB(A) <60 dB(A)Pack weight 20.7 kg
Product weight 9.8 kg
Product length 560 mm
Product width 410 mm
Product height 250 mm
2 Year Warranty