The Husqvarna TC242 T  Lawn Tractor is operated with pedals so it enables you to steer with both hands. It gives you both comfort and control whilst ensuring safe operation whenever. It doesn't matter what kind of lawn you are facing. By choosing between three different cutting systems – collecting, mulching (BioClip) or ejecting – you can secure a good result no matter what. Bushes and trees are no problem either. Thanks to the unique steering technology that's available in all of Husqvarna's tractor mowers, you can easily cut around obstacles of any kind. The result is less uncut areas, efficient mowing and full manoeuvrability.
FEATURES
Pedal-operated hydrostatic transmission
Easy speed and direction control with pedal-operated hydrostatic transmission. Separate pedals for forward and reverse.
Reinforced Cutting Deck
The stamped cutting deck is reinforced with heavy flat-stock steel for added strength and durability on the leading edge and trim side. (48″ shown)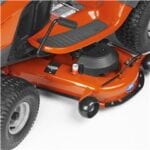 Sliding, angled seat
Adjustable while seated; seat moves forward and down, or backwards and up.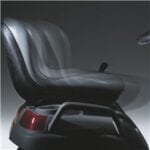 Air Induction
Innovative Air Induction mowing system that draws clean air from the top and bottom of the deck, enhancing air flow which results in greater grass lift and superior cut.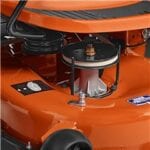 Oversized steering wheel
Extra large and thick steering wheel for less steering effort and smoother operation
Hour meter with service minder
Indicates when it's time to service your tractor.
Steel hood
Hood in solid steel construction, guarantees reduced paint fade compared to plastic.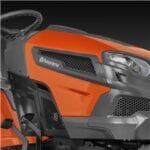 Chokeless start
Easy to get operating with automatic choke. Just turn the key and go.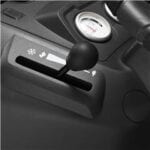 With a Husqvarna Garden Mower/Lawn Tractor you will be ready for seasons to come. A wide range of attachments will make it a versatile tool and useful all year around. It can be fitted with trailers, snow blades, brooms and much more. Husqvarna lawn tractors are made to keep your garden in perfect condition, during any season of the year.