Husqvarna P524EFI commercial out front rider
Compact, efficient Husqvarna out front rider mower featuring Electronic Fuel Injection for reduced fuel consumption, enhanced power and torque without engine drop even in tough conditions. Turn key start means no choke needed: just switch on and go. Articulated power steering helps with tight turns, while AWD ensures traction in any conditions. Fully floating cutting deck, easy access cutting height lever and headlights also help make mowing easier, while full compatibility with all P524 husqvarna riders accessories allows all year-round productivity. Suitable for sport clubs and hotels as well as housing agencies and contractors who want a versatile, compact, highly manoeuvrable front mower. The Husqvarna P 524EFi Rider is delivered deckless and can be fitted with 112 and 122 cm Combi cutting decks.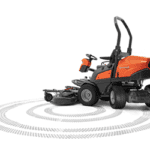 Unique articulated steering
The unique articulated steering system allows the rear pair of wheels to swing in underneath the machine. The result is superior manoeuvrability with a minimum turning radius at full lock.
EFI
Electronic fuel injection for increased productivity combined with lower fuel consumption and reduced emissions
Hydraulic power steering
Heavy-duty hydraulic-cylinder power steering makes driving less strenuous.
Quick coupling
Unique quick coupling allows attachments to be changed quickly and efficiently without tools.
Compact design
The compact size together with the unique articulated steering makes it easy to manoeuvre the machine in narrow spaces and tricky areas.
Commercial graded transmission
High-specified variable piston pumps with separate gear boxes for front and rear axle.
Greasable mandrels
For easy maintenance and longer lifetime.
Trimming ability
The front-mounted cutting deck gives excellent overview of the working area, enabling precise, close-up trimming.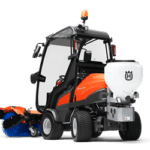 Versatile usage
A wide range of cutting decks and attachments will make your front mower exceptionally versatile, all year round.
All-Wheel-Drive (AWD)
All-Wheel-Drive (AWD) ensures traction on uneven, wet and slippery areas and slopes. AWD automatically adjusts the traction on all wheels depending on situation and ground condition.
Mowing accessibility
The low profile front-mounted cutting deck gives unbeatable accessibility in under fences, bushes, park benches etc.
Easy-access controls
Controls are easy accessible and designed for optimum user comfort.
Roll Over Protective Structure (ROPS)
The vehicle is equipped with a Roll Over Protective Structure (ROPS) and seat belts certified to five international standards including OSHA and SAE requirements. The ROPS ensures a safe ride for the operator.
Easy access
The tilting hood and easy-access servicing points make maintenance and servicing easy.
PNC 967848101 
Kawasaki

112 cm

122 cm

Mulching/Rear discharge