Ego Leaf Blower LB6000E leaf blower coupled with our 10.0Ah battery. Perfect for professional use, you can enjoy 240 minutes of run time on a single charge, and the supplied rapid charger takes only 70 minutes to replenish the battery. Boost mode will see away stubborn wet leaves to leave you with a complete finish.
The Ego Leaf blower LB6000E  as advanced aeronautical technology to implement into the turbo fan, giving you additional power when required, working in tandem with the highly efficient brushless motor. A massive 1220m3/h of air (over 30mph!) can be achieved whilst in boost mode, making light work of even the hardest of tasks.
The Ego Blower is designed to keep you in control – from low speed, low volume airflow for those delicate areas, to high speed, high volume airflow for hard-to-shift wet leaves and objects. With more power than most handheld petrol blowers on the market, that's more than enough to clear up even the biggest windfall.
KEY FEATURES FOR EGO LB6000E Blower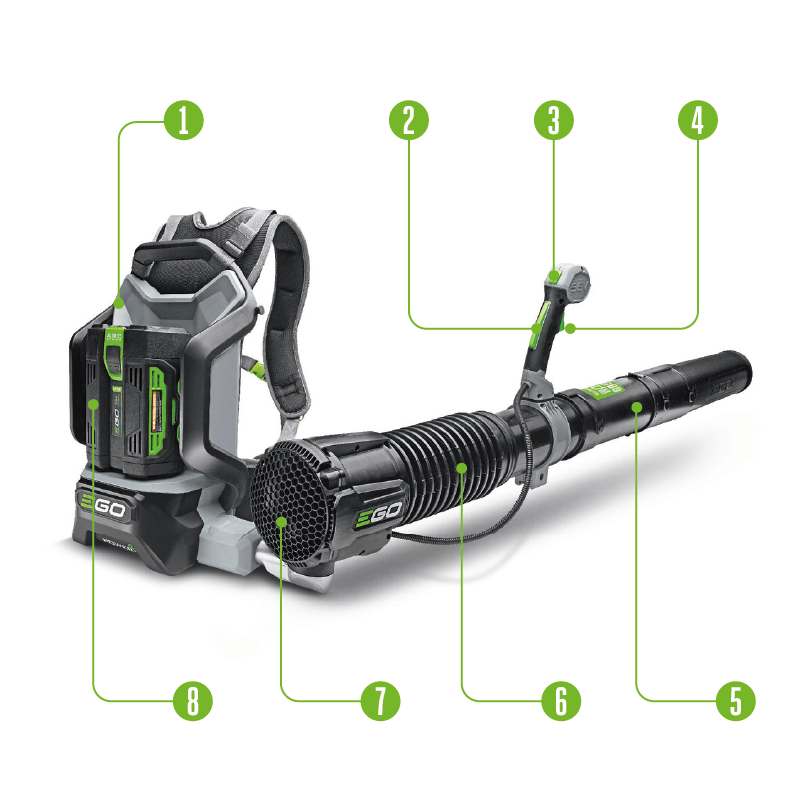 COMFORTABLE AND STURDY BACKPACK FRAME

For comfort during long periods of use

ADJUSTABLE HANDLE

For greater reach, control and comfort

POWER SETTING SWITCH

For efficient power management

VARIABLE SPEED TRIGGER

For precise blowing

VARIABLE LENGTH TUBE

For greater comfort and control

FLEXIBLE TUBE

Gives greater movement and comfort whilst in use

HIGH POWERED BRUSHLESS MOTOR

Delivers high air volume and speed, but with much lower levels of vibration and a lot quieter than petrol-powered equivalents

BATTERY COMPATIBILITY

Compatible with all EGO Power+ batteries