Ego 1401 Cordless chainsaw Kit
The Ego 1401 kit is provided with a 2.5ah battery and standard charger, the CS1401E cordless chainsaw kit is perfect to get started with our EGO Power+ cordless garden tools. This tool is ideal for cutting up branches and medium sized logs up to 35cm in your garden, providing petrol matching power in each cut.
With the ego 2.5ah battery provided, the product weighs just 5kg, and will provide up to 130 cuts at a chain speed of 13.5 m/s from a fully charged battery. The standard charger will recharge the battery in 50 minutes, and you can use the battery in any other EGO Power+ product, making it versatile and environmentally friendly.
Ego Chain Tension
Our tool-free tensioning system means it's now quicker and easier to attend to the chain, and the auto-lubricating 150ml oil reservoir means looking after your chains health is simpler along with easy to check oil levels through the opaque inspection window.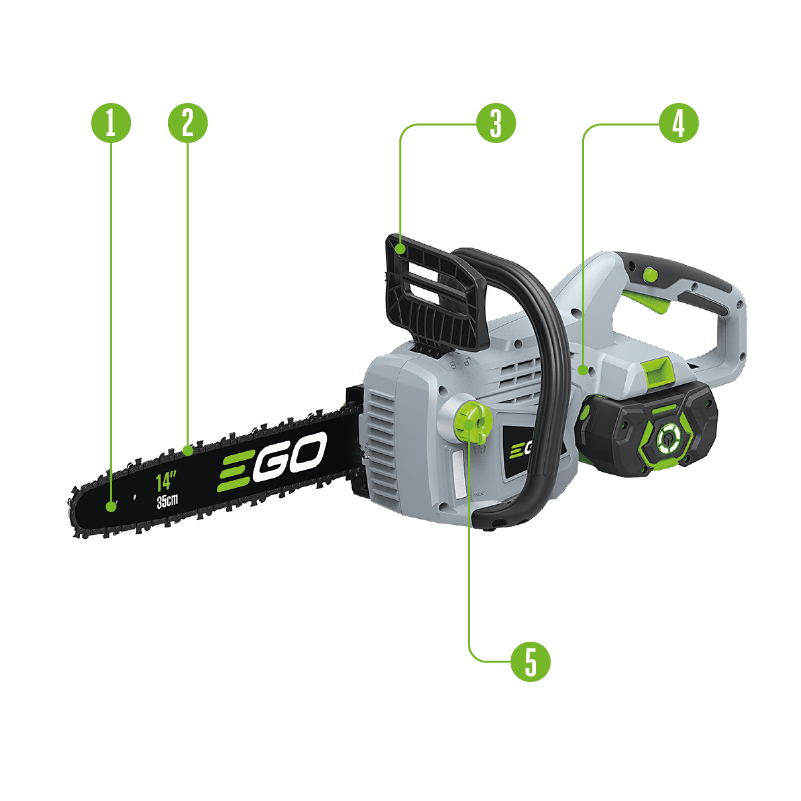 DURABLE 35CM, 14″ GUIDE BAR

CHAIN SPEED 13.5M/S

For smooth, easy cut through large trunks and logs

CHAIN BRAKE

For safe operation

EGO EFFICIENT AND POWERFUL BRUSHLESS MOTOR

CHAIN TENSIONING KNOB & OIL INSPECTION WINDOW